Mark your calendars for the Yankee Springs Trail Run weekend, June 2-3, 2023.  Choose from 10k, half marathon, 25k, 50k, and 100k races. Make a weekend of it and stay in one of the cabins at the Long Lake Outdoor Center.
Check-in time for cabins
Friday 5:00 pm
Cut-off time for 10k
Friday 11:00 pm
100k start
Saturday 6:00 am
50k start
Saturday 8:00 am
25k start
Saturday 9:00 am
cut-off time to start the last lap of the 100k
Saturday 7:30 pm
Cut-off time for Saturday races
12:00 midnight
Check-out time for cabins
Sunday 11:00 am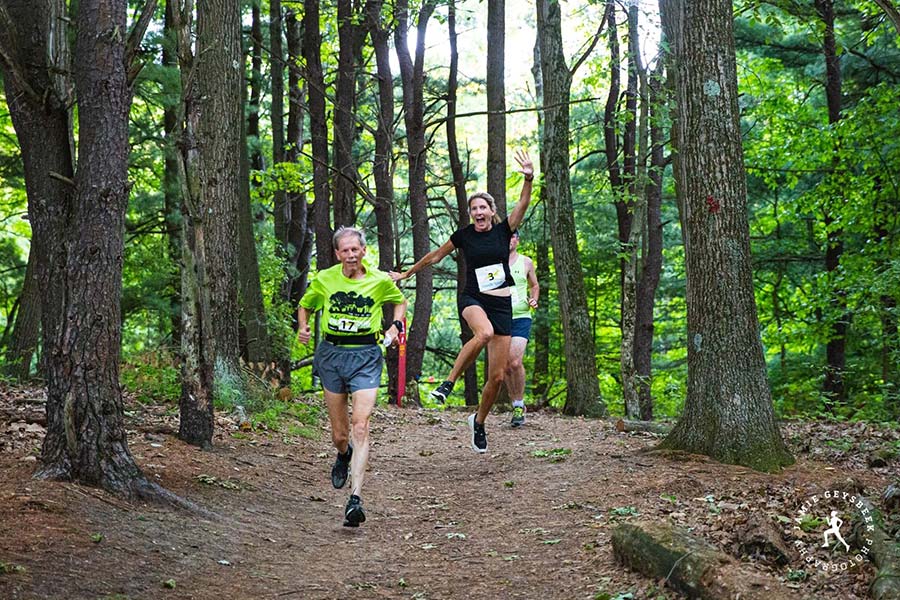 Packet pickup
Packet pickup will be at the Long Lake Outdoor Center before each race.
Friday 5:00 pm-8:00 pm
Saturday 5:00 am-9:00 am
The Course
The trails at Yankee Springs have some serious hills and enough rocks and roots to keep it interesting. The 10k course has 978' of elevation gain, and the 25k course has 1,388' of elevation gain. You won't have to worry about a lot of mud because these trails drain well. There are no water crossings on our courses.
Both courses start at the Long Lake Outdoor Center and follow the Hall Lake Trail and spur trails past the Devil's Soup Bowl up to the Mountain Bike Trail. The 25k course then turns right on the Mountain Bike Trail and follows the loop counterclockwise to McDonald Lake. The 10k course goes left on the Mountain Bike Trail and follows it clockwise to McDonald Lake.  At McDonald Lake both courses join the North Country Trail and return to the Outdoor Center by way of the North Country, Chief Noonday, Long Lake, and ski trails.
The 50k and 100k are 2 and 4 laps of the 25k course.
Aid Stations
The aid stations will be between 2 and 4 miles apart. There will be one aid station on the 10k course and three on the 25k course. There will also be an aid station at the start/finish. There will be a place for drop bags at the start/finish aid station.
Pacers
100k runners are allowed to have pacers in the 3rd and 4th laps. 50k runners may have a pacers on the 2nd lap.  We ask that you only have one pacer at a time and that pacers check in and sign a waiver at the start/finish. Pacers who sign in are welcome to aid station food. The only other thing we ask is that pacers not cross the finish line because it can be confusing for the timers.
Lodging
We recommend staying in one of the rustic cabins or bunk houses at the start/finish area. The cabins and bunk houses are rustic but clean and well-maintained. You can rent a single bunk or rent a cabin with 4 or 5 beds. We take care of renting out the cabins, so sign up for lodging on the online registration. Individual bunk for $30, cabin for 4 for $100, cabin for 5 for $120. All lodging prices include 2 nights, both Friday and Saturday.
Entry Fees
Shirts are included in the race fee.  Please register by May 20 to be guaranteed a shirt in your size.
| | | |
| --- | --- | --- |
| 10k | $50 | $65 |
| 25k | $70 | $85 |
| 50k | $85 | $100 |
| 100k | $95 | $110 |