Mark your calendars for the Yankee Springs Trail Run weekend, June 3-5, 2022.  Choose from 10k, half marathon, 25k, 50k, and 100k races, or run multiple races. Make a weekend of it and stay in one of the cabins at the Long Lake Outdoor Center.
Check-in time for cabins
Friday 5:00 pm
Cut-off time for 10k
Friday 11:00 pm
100k start
Saturday 6:00 am
50k start
Saturday 8:00 am
Night 25k start
Saturday 8:00 pm
Cut-off time for Saturday races
Saturday 8:00 pm
Half marathon start
Sunday 7:00 am
Cut-off time for half marathon
Sunday 11:00 am
Check-out time for cabins
Sunday 11:00 am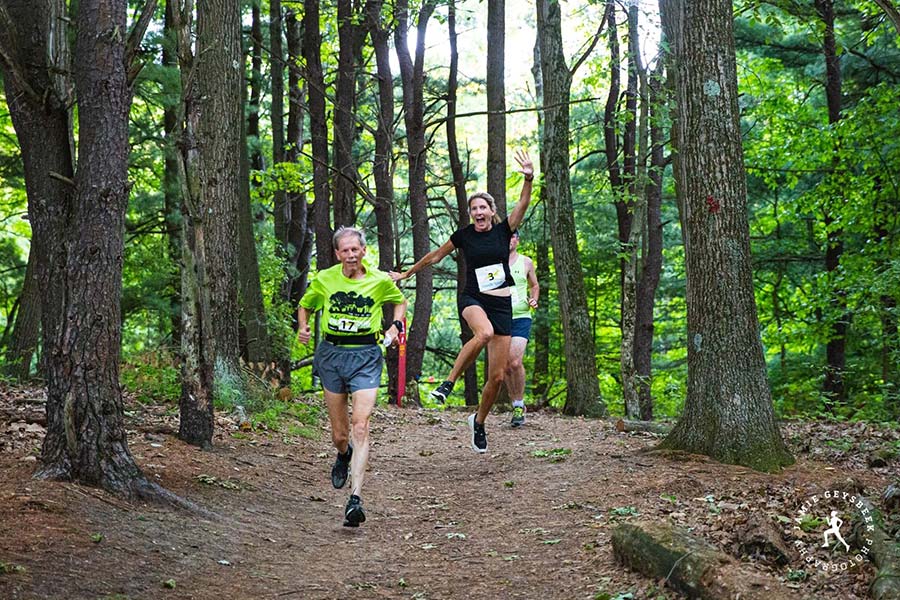 Packet pickup
Packet pickup will be in the Lodge at the Long Lake Outdoor Center before each race.
Friday 5:00 pm-8:00 pm
Saturday 5:00 am-8:00 am
Saturday 6:30 pm-8:00 pm
Sunday 5:00 am-7:00 am
The Course
The courses consist of a 10k loop and a 25k loop of mostly single track trail. 50k runners do the 25k loop twice. 100k runners do the 25k loop four times.
Aid Stations
The aid stations will be between 2 and 4 miles apart. There will be one aid station on the 10k course and three on the 25k course. There will also be an aid station at the start/finish. There will be a place for drop bags at the start/finish aid station.
Pacers
100k runners are allowed to have pacers in the 3rd and 4th laps. 50k runners may have a pacers on the 2nd lap.  We ask that you only have one pacer at a time and that pacers check in and sign a waiver at the start/finish. Pacers who sign in are welcome to aid station food. The only other thing we ask is that pacers not cross the finish line because it can be confusing for the timers.
Lodging
We recommend staying in one of the rustic cabins or bunk houses at the start/finish area. The cabins and bunk houses are rustic but clean and well-maintained. You can rent a single bunk or rent a cabin with 4 or 5 beds. We take care of renting out the cabins, so sign up for lodging on the online registration. Individual bunk for $30, cabin for 4 for $100, cabin for 5 for $120. All lodging prices include 2 nights, both Friday and Saturday.
Entry Fees
Check back here soon for entry fees and registration.  Tech shirts are included in the race fee.